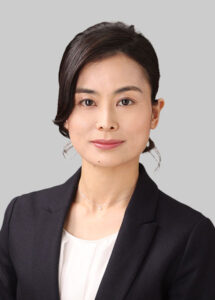 Professor and Chairperson
Department of Neurology
Graduate School of Medical Sciences
Kyushu University
Maidashi, Higashi-ku, Fukuoka City, Japan
Noriko Isobe is a Professor and Chairperson, Department of Neurology, Kyushu University, Japan. Her main focus in both, research and clinics, is on immune-mediated diseases of the central nervous system (CNS) including multiple sclerosis (MS).
Professor Isobe graduated School of Medicine, Kyushu University and completed a PhD at the Department of Neurology, Graduate School of Medical Sciences, Kyushu University.
She worked as a Postdoctoral Fellow at the Department of Neurology, University of California, San Francisco from 2010-2017.
She got special training on MS and had seen and treated many MS patients in the clinic. Furthermore, she also has extensive experience with the diagnosis and management of neuromyelitis optica spectrum disorders (NMOSD), a neurological disease with partially overlapping pathogenesis but distinct etiology from MS.
Her current research interests include genetic susceptibility to MS, genetic determinants of disease progression in MS and NMOSD and T-cell receptor repertoires in MS.
Awards
09/2016    Best Article Award 2015 in Clinical and Experimental Neuroimmunology
04/2014-   Japan Society for the Promotion of Science, Research Fellowship for Young                           Scientists for Postdocs (PD)
04/2012-03/2014  Japan Society for the Promotion of Science, Postdoctoral Fellowship for Research                   Abroad
09/2011    Young Neuroimmunologist Award at The 23rd Annual Meeting of the Japanese                      Society for Neuroimmunology
08/2011    PACTRIMS young investigator award at The 4th Congress of the Pan-Asian                          Committee for Treatment and Research in Multiple Sclerosis (PACTRIMS)
04/2011    Post-doctoral Fellowship, The Uehara Memorial Foundation
10/2010-03/2011  Fellowship Grant and Research Grant for Research on Intractable diseases,                          The Association for Preventive Medicine of Japan
10/2010    Travel grant for 26th Congress of the European Committee for Treatment and                        Research in Multiple Sclerosis (ECTRIMS) 2010
2010                  Guest editor for special issues of Multiple sclerosis in Autoimmune diseases
09/2009.   Travel grant for 25th Congress of ECTRIMS 2009